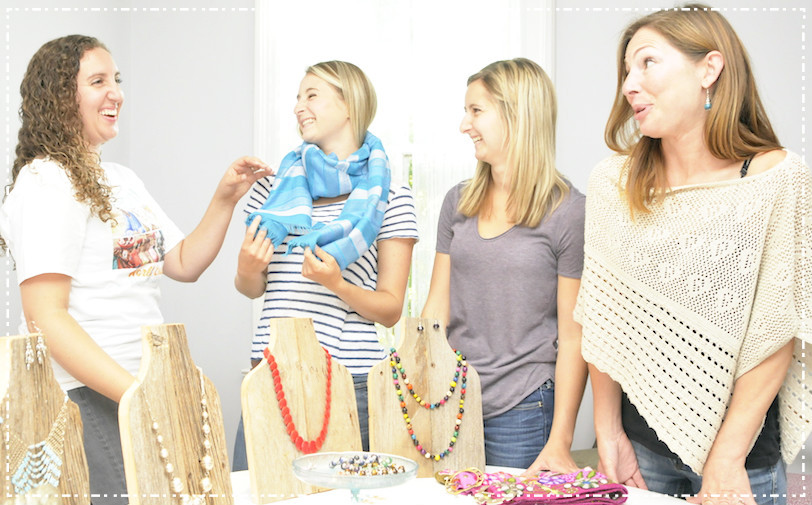 When you host a One Earth Party you help Artisans in Developing Countries around the world and support a Small Business in your own community.
Having fun, helping others and earning rewards. If this sounds like the perfect girls night out book your OE party today.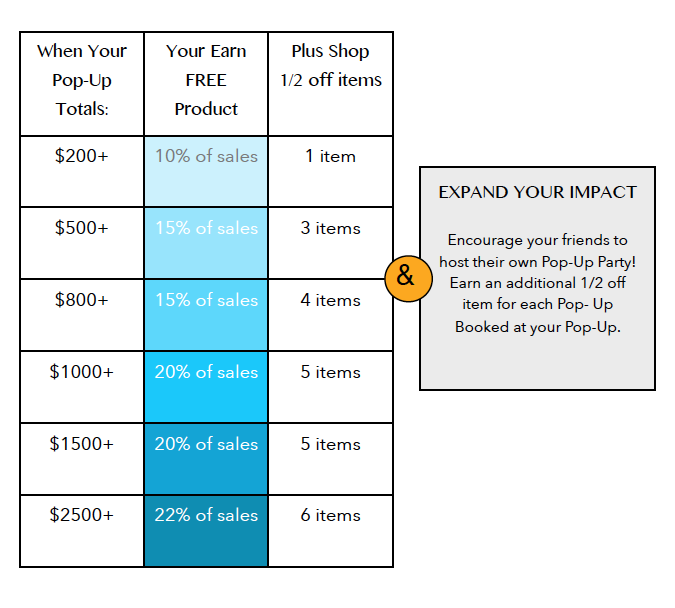 Host in November
and enjoy exclusive party specials**
valid until November 30th
#1
host a qualified party in November and receive a special gift (available for hosts only)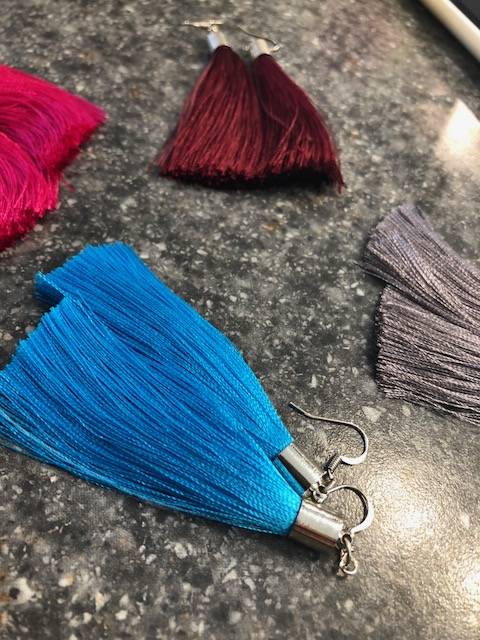 Host a $300 party and receive a free pair of tassel earrings (colour will vary), handmade by our artisan partners in morocco.
#2
Each of your Guests, who place an order will get a free Christmas Ornament. 
#3
November hostesses can shop our handbag & satchel collection at 50% off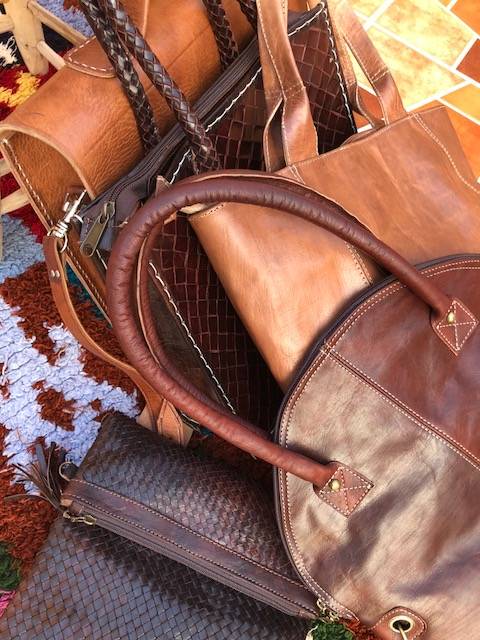 Host a $400 party and purchase a Satchel at 50% off.
To qualify, pop-ups must be held Nov 1-30th. They must have 3+ customer orders and have at least $300 in sales to qualify for rewards.

Frequently Asked Questions
What is a OE Party like?
An OE party where you and your friends can shop our collection of handmade items by Artisans around the world. You will discover the stories of the talented Artisans who make our pieces. By shopping, you and your friends will create opportunity in vulnerable communities around the world. OE has something for everyone – all styles and budgets – and there is no pressure for guests to purchase anything.
Who can host an OE Show?
Anyone can host! You just have to be willing to gather your friends and invite them to make a difference. While many of our Parties are hosted by women, we also have had Parties hosted by men – often as a way to make it easy for other men to shop for gifts for their wives, sisters, daughters and friends!
When can I host an OE Party?
You can host a Party on a weekday or a weekend, during the day or in the evening. OE Parties are a great reason to gather friends for a play date or a night out. Ask your Consultant about her availability! There is never a perfect time when everyone can come. Check your calendar ahead of time for other events, choose a date and invite your friends with confidence – you are giving them an opportunity to make a difference!
How far in advance should I plan my OE Party?
It is never too early to get something on the books! Your Consultant will help you set a date. We think at least two or three weeks is enough time to gather friends. We make it easy for you to send out invitations and to remind your guests – ask your Consultant for more details!
Where can I host an OE Party?
You can host it anywhere, not just in your home! Any space where you can gather friends and give your Consultant room to set up a beautiful display of OE Products could work. We have had Parties at coffee shops, offices, schools, churches and more. Contact your Consultant to talk about options in your community.
How do I prepare for my OE Party?
Before your guests arrive, clear a space where your Consultant can set up her display. Your Consultant will bring everything else! When it comes to food and drinks, our best advice is to keep it simple. Make a pot of coffee or open a bottle of wine, set out some fruit, cheese or dessert, and make your friends feel welcome.
Will I get to see the entire collection at my OE Party?
OE Parties are the best way to see our gorgeous collection in person. Your Consultant will bring her unique selection of One Earth products. Plus you can always shop online.
What if some of my friends can't make it?
You can always invite your friends to shop online as a part of your OE Party! Your Consultant will give you the details of how this works to make sure you receive credit for any online orders.
Can I host an OE Party with a friend?
While you are welcome to get friends or family involved in helping you host an OE Party, only one person may earn Hostess Rewards. Contact your Consultant for more details.
How much space do I need to host an OE Party?
You don't need a big house to host a Party! Your Consultant will need a space where she can set up samples – think kitchen counter, dining table or coffee table – and your friends will need a little room to gather.
How long will it take for our new One Earth to arrive?
After your guests write down their orders at your OE Party, your Consultant will place the orders through our website. Our Home Office team based in Niagara-on-the-Lake, Ontario will pack the orders with love. They will be delivered via Canada Post within 3 weeks.